Victoria Day Weekend Regatta 2015
This year, Victoria Day fell early in the month. However, we had excellent warm weather and fine winds for sailing. The Belwood Lake Sailing Club graciously hosted our regatta again. We had exciting racing, younger members serving as crew, and time for some more casual cruising. All in all, it was a great weekend.
Saturday
Jim Carroll and Paul Lingen had graciously volunteered to serve as race committee. Jim's daughter Emma and her boyfriend Ian decided to keep him company and help out in the committee boat, so Paul took a Zodiak and borrowed a camera to be photographer. As a result, we've got some great photos of the races.
With such good weather conditions, it was time to get started. A quick last check of the rigging, and too figure out where our crew had gone. Then it was time to launch the boats and head out to the course. Today, we were sailing near the dam.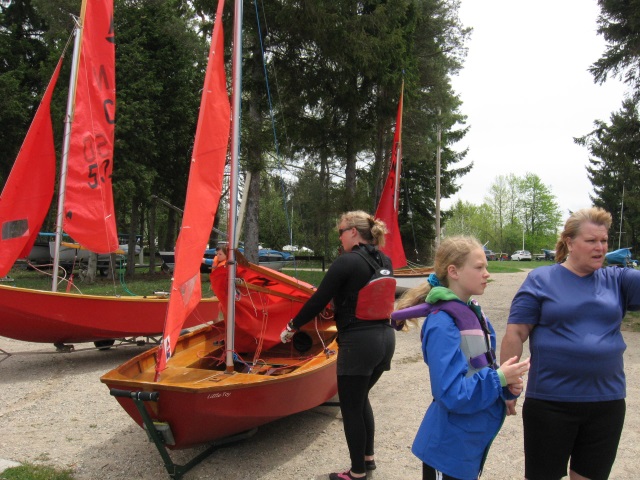 Then it was time to try out a few practise manouvers while the race committee got ready to start. It's amazing what you forget over the winter!
Race 1
The race committee decided on a conventional triangle-sausage course for the first race. It was an exciting race, with lots of changes of position all through the race. It began with a close start between Erik and Shelley.
At the first mark, the first four boats were fairly close: Marika and Wyatt were in the lead, followed by Erik and Kaiden, then Steve and Tayja and Dawn and Caleb.
Heather and Shelley got there too.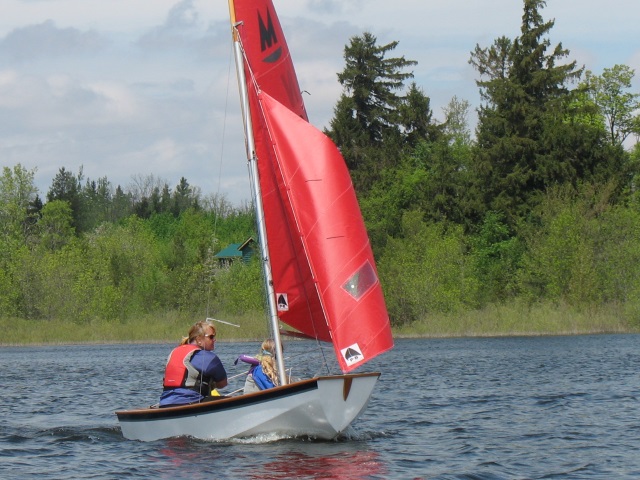 At the leeward mark, there have been some changes of position: Dawn has passed Erik and Steve, and Steve has passed Erik.
At the windward mark, we have another change of position as Steve and Tayja get there first.
After rounding the leeward mark, it's a quick beat back to the finish line.
Steve and Tayja hold on to their lead, and cross the finish line on a strong gust. Tayja's cry of "I don't wanna die" as the gust hits provides some amusement to the race committee! Erik and Kaiden managed to stay just ahead of Dawn and Caleb, with Marika not too far behind.
Race 2
For the second race, the committee shortened the course to a simple triangle course. It was a close start, but Heather was over early and had to restart.
Erik, Dawn and Steve all opted for the lefthand side.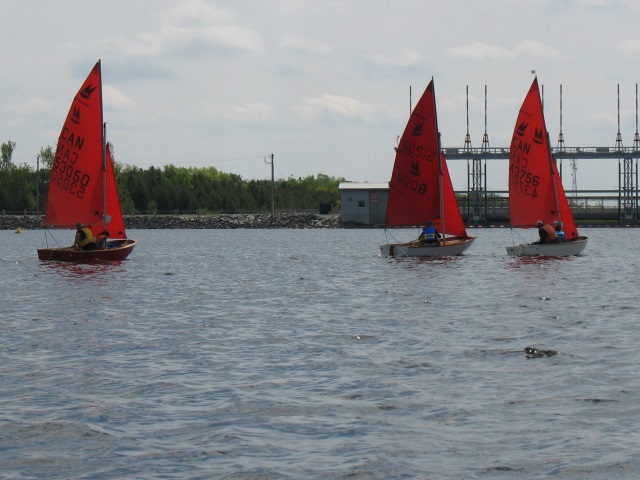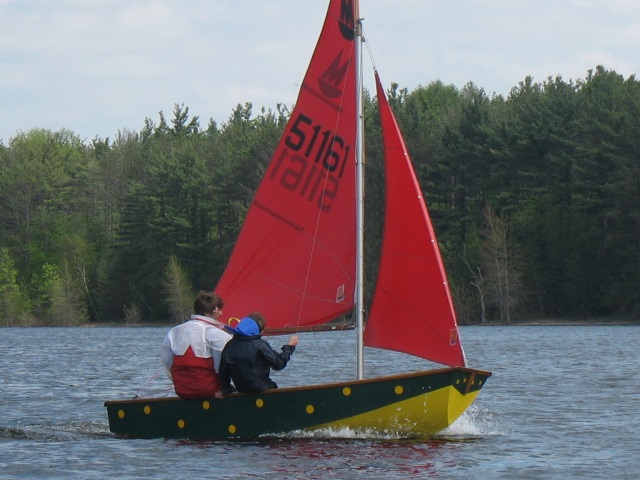 At the mark, Steve and Tayja get there first, closely followed by Erik and Kaiden and Dawn and Caleb. Then it's a close race reaching to the gybe mark. However, there is no change in the first three positions.
The rest of the fleet reaches the gybe mark: Heather and Daisy, Shelley and Marika and Wyatt.
There are no more lead changes at the front of the fleet approaching the finish line, but it's a close finish.
Marika, who was in last place at the gybe mark rounding, has managed to catch up with Shelley. Coming up to the finish line, its a close race. Marika manages to just get ahead of Shelley in time for the finish line!
Race 3
The third race was another triangular course. Shelly and Erik had great starts, but Marika was too early and had sailed past the pin before the start.
Of course, there were plenty of gusts.
Erik and Kaiden are first to the windward mark. They kept their lead at the leeward mark, but Steve and Tayja are catching up and Dawn and Caleb are not far behind.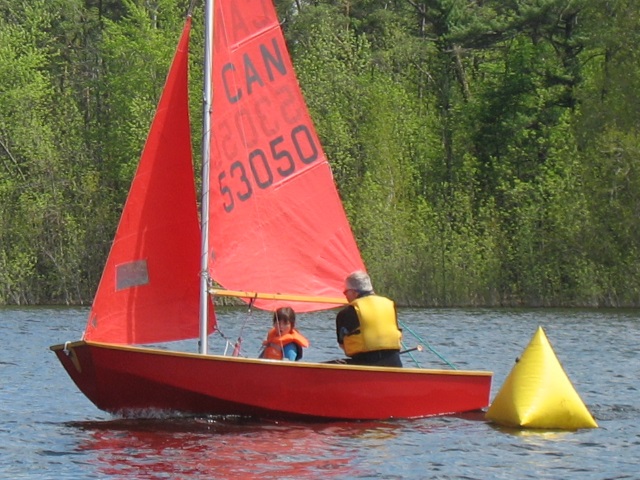 After rounding the leeward mark, Shelley took a gamble and went far out to the righthand side. It paid off, as she passed Dawn and Caleb on her way to the finish line.
Dawn and Caleb head back to shore.
Race 4
The race committee changed things up with a new course. A drag race: a quick race up to the windward mark and back.
In a drag race, its all about the start as there is not much time to pass. The finishing order matched the start, except that Steve and Tayja did manage to pass Marika and Wyatt.
Race 5
For the last race, we had a longer windward-leeward-windward race: up to the windward mark, down to the leward and windward back to the finish.
Emma, our flag minder.
Marika gets the best start, but it's close.
Halfway down the downwind leg, Steve and Tayja are in the lead, with Erik and Kaiden close behind, followed by Shelley. Shelley manages to pass Erik and Kaiden on the way back. In another close finish, Marika and Wyatt don't quite manage to pass Erik and Kaiden.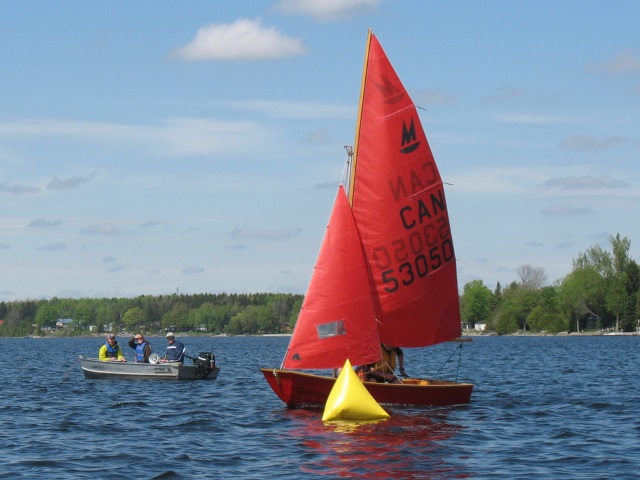 Race Results
2015 OMDA Victoria Day Weekend Regatta Results
Place
Sail No.
Crew
Race 1
Race 2
Race 3
Race 4
Race 5
Points
1
53050
Stephen Steel
Tayja Beaumont
1
1
2
4
1
5
2
51161
Erik Brendeke
Kaiden Beaumont
2
2
1
1
3
6
3
16562
Heather Pugh
Daisy
5
4
6
3
5
17
4
34048
Shelley
6
6
3
2
2
17
5
51208
Dawn Richardson
Caleb Richardson
3
3
4
DNS
DNS
17
6
51161
Marika Beaumont
Wyatt Beaumont
4
5
5
5
4
18
Note: Those sailing single-handed were assessed a penalty of 1 point per race, and each crew's worst result was thrown-out. Careful observers will notice that we had to use both tiebreaker rules to sort out the three way tie with 17 points!
Many thanks to Jim Carroll, his daughter Emma and her boyfriend Ian for volunteering as our race committee. They did a great job. And many thanks to Paul Lingen. He got a lot of great photos of the racing from the water. And of course, many thanks the Belwood Lake Sailing Club for hosting such a great day of sailing!
Sunday
Sunday morning started with our traditional pancake breakfast cooked by Aleid. A great start to a beautiful day.
Since we managed to sail five races on Saturday, this left Sunday free to take the kids out for a fun cruise. Some of them were brave enough to taking a turn on the tiller. Sorry, no photos of this yet.
Photo Credits
Thanks to all those who provided photos:
Paul Lingen
Martin Walker