63rd Windsor Scouts Learn to Sail Camp 2014
The 63rd Windsor Scouts have been busy for much of this spring with a major project: building a Mirror Dinghy from a kit (graciously donated by Mirror Sailing Development). They have been assisted in this project by OMDA members Steve Richardson, who is also a Scout leader, and Don Alp, who knows a thing or two about building Mirrors. The scouts have been keeping a boat build blog with lots of photos of their activities.
On the weekend of June 7-8, OMDA and the 63rd Windsor Scouts held a joint event at Pittock Lake Conservation Area in Woodstock. Many OMDA members were able to attend to help celebrate the launching of the Scout's beautiful new boat No Regrets, and then to take the scout's out in our boats and teach them some of the basics of sailing.
We had perfect weather for the event on Saturday. Plenty of sun, and enough wind to keep things interesting without getting anybody too worried.
First, scouter Steve outlined the days plans for the scouts and OMDA members.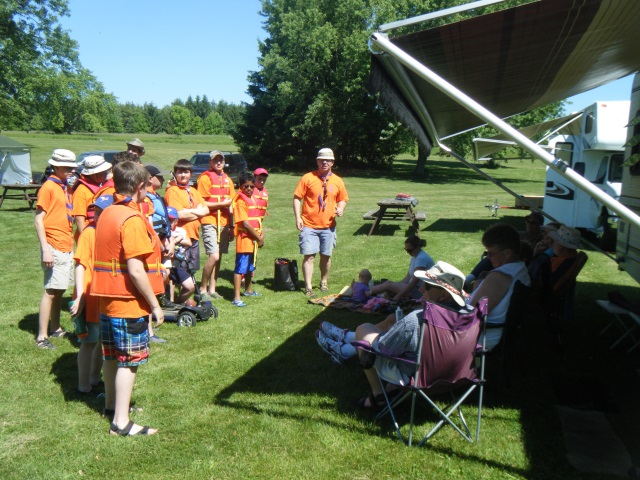 Then it was time to show the scouts how to rig a Mirror.
Launching No Regrets
With all the boats rigged and ready for the water, the first orders o business was to admire the scout's handiwork on No Regrets and mark her launch with a small ceremony. She's a beautifully constructed boat, even though she was missing a final coat of varnish. Don Alps ruptured appendix had delayed some of the finishing touches.
As part of this, No Regrets was christened with sparkling grape juice (this being a scouting event after all). Don't worry Don, nobody contemplated breaking the bottle over the bows, and No Regrets emerged from the ceremony without a scratch!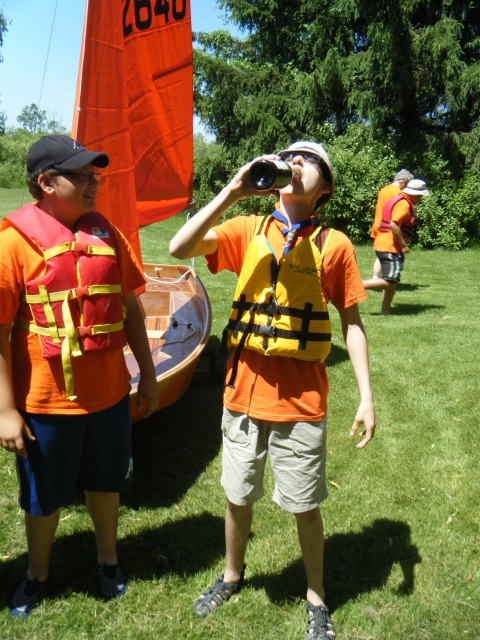 After that, it was time to launch No Regrets into Pittock Lake. Much to everybodies relief, there were no nasty surprises when David and Sam took her out for her maiden voyage.
Sailing Lessons
The rest of the scouts who weren't lucky enough to be sailing in No Regrets were divided amongst the other boats from the OMDA fleet and everybody headed out onto the water. Derek piloted Charger, so we had a safety boat in case anyone needed help. It also provided a great platform for capturing photos of the event.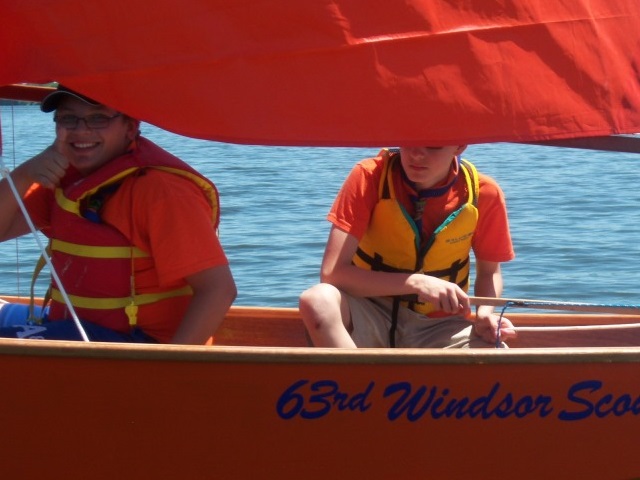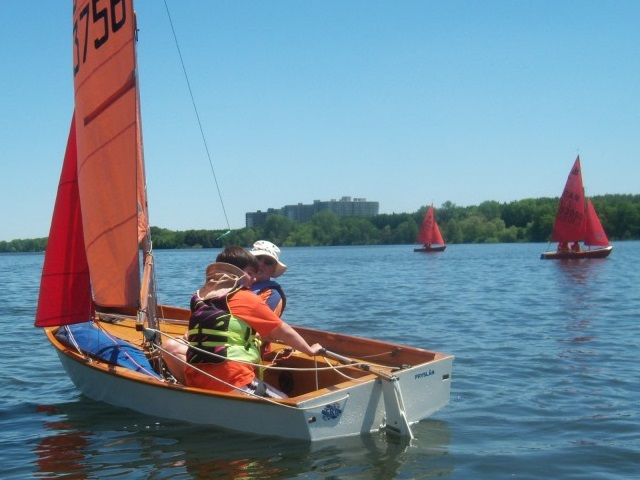 We'd clearly been out for a while ...
By about 2:00 pm, we persuaded most of the scouts that they should come in and have something to eat.
The scouts feasted on tube steak, while the OMDAites ate whatever we had packed in our coolers. We were amused to notice that none of the scouts removed their life jackets while eating lunch - they were clearly worried by rumours of non-sailing activities in the afternoon, and they weren't taking any chances. In the end, the scout's wishes prevailed, and we headed back onto the water to continue the sailing lessons.
One of the scouts decided to tackle a more advanced bit of training by staging a man overboard drill!
Even the other scout leaders got lessons
After dinner and a hike to see the dam, the scouts amused us around the camp fire. Eventually we all retired for a well earned rest.
Sunday
Sadly, we woke up to to less appealing weather on Sunday. There were plenty of signs of rain in the not too distant future. The scouts organized an excellent breakfast of sausages and pancakes, which we all enjoyed. Then it was time to pack up our gear and boats before the rain arrived.
The camp was a big success with both the OMDA members who attended and with the scouts.
Many thanks to all those who helped teach the scouts to sail (Peter, Ian, Natalie, Aleid, Shelley, Steve, Elaine and Steve), to those who lent their boat (Paul), and to Derek for helping out with Charger.
Photo Credits
Thanks to all those who provided photos:
Scouter Kelly
Elaine Richardson