Derek Clay Single-Handed Regatta 2014
This years Derek Clay Single-Handed Regatta was held at its traditional date and location: the Belwood Lake Sailing Club on the Labour Day weekend.
Saturday
The morning started with nice weather, and those who'd camped over Friday night were able to enjoy it. The BLSC playground had a new addition that was very popular with the kids: an abandoned sailboat hull, now floating in the ground!
Of course there's lots of fascinating stuff growing in Lake Belwood.
A lots more to look at on the shoreline.
As the morning progressed, the weather looked mildly threatening, but there was plenty of wind with lots of gusts. Our race committee, Paul Lingen, Paul Coppes and John McCulloch, threw us a curve by setting up a clockwise course with marks taken to starboard in front of the club. This gave those on shore an excellent view of the racing for a change.
And, at the end of the first race ...
The wind and gusts slowly gained in strength over the course of the day. It made for some very interesting racing, as shifts often caused changes in positions.
A good chance for some nice photos as the fleet passed the committee boat.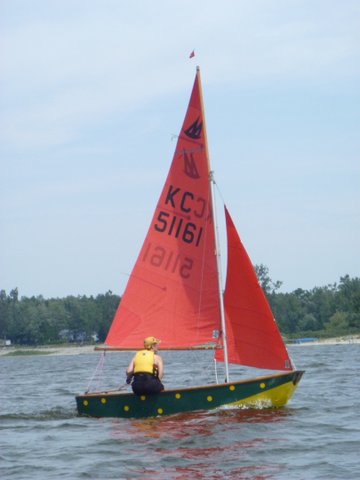 Then it's back out to the mark by the dam.
Shelley, who was sailing Paul Lingen's boat, had some rigging trouble and had to come ashore to fix it. However she was back out in time for the start.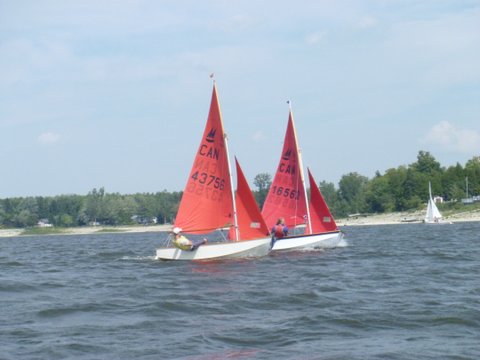 The weather was picking up, but we had time for one more race.
We had some excitement when a float plane blasted through the course on a take-off run.
By the end of the fourth race, the wind had really picked up. Heather and Erik made it across the finish line, but the rest decided to head directly in to shore. The race committee agreed, and that was it for racing on Saturday.
As it turned out, the race committee's day was not over yet. They ended up going back out to help a couple of CL14 boats who were finding the wind a bit too much to deal with!
We repeated last year's experiment of holding the AGM outside at four in the afternoon. This was a great success. Shelley's reign as president had reached OMDA's mandatory term limit, and Steve's nomination as the new president was unanimously accepted.
With the AGM out of the way we could take our time enjoying the pot-luck dinner and the campfire afterwards. It was a lovely evening, and the kids had lots of fun playing in the field with glow sticks.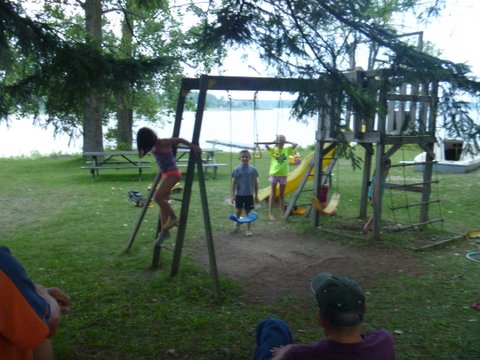 Sunday
Again, the weather on Sunday looked a little threatening, but there was good wind. We had a fairly early start in case the weather didn't hold. The race committee, now missing John, went back to a conventional counter-clockwise course with marks to port, but still in front of the club. We put in three more races and then headed in for lunch (and to be out of the way for the BLSC races in the afternoon).
The threatening weather never materialized. The overcast clouds dispersed, and we had beautiful sunny weather for the afternoon. We had a great time watching the BLSC club races from shore.
Sorry, no racing pictures from Sunday.
Race Results
2014 OMDA Derek Clay Single-Handed Regatta Results

| Place | Sail No. | Crew | Race 1 | Race 2 | Race 3 | Race 4 | Race 5 | Race 6 | Race 7 | Points |
| --- | --- | --- | --- | --- | --- | --- | --- | --- | --- | --- |
| 1 | 16562 | Heather Pugh | 1 | 1 | 2 | 1 | 1 | 1 | 1 | 6 |
| 2 | 43756 | Erik Brendeke | 2 | 2 | 1 | 2 | 2 | 2 | 2 | 11 |
| 3 | 53050 | Stephen Steel | 4 | 3 | 3 | DNF | 5 | 4 | 3 | 22 |
| 4 | 51161 | Marika Beaumont | 3 | 4 | 4 | DNS | 3 | 5 | 5 | 24 |
| 5 | 34048 | Shelley Beatty | 5 | DNF | DNF | DNS | 4 | 3 | 4 | 28 |
Note: Since we sailed 7 races, each sailor's worst result was thrown-out.
Many thanks to Paul Lingen, Paul Coppes and John McCulloch who volunteered as race committee, and of course to Belwood Lake Sailing Club for graciously hosting us.
Photo Credits
Thanks to all those who provided photos:
Shelley Beatty
John McCulloch
I'm sure there are some more sailing photos from the weekend out there. Remember to send them in!