Killbear Poker Race 2011
The weather on Wednesday was ideal for an event that is popular with OMDAites of all ages: the Poker Race! Terry celebrated OMDA's 40th anniversery by breaking out a brand new deck of cards that she had been saving for a suitable occasion.
The Prelude
The first order of business was to get your boat rigged and ready to sail.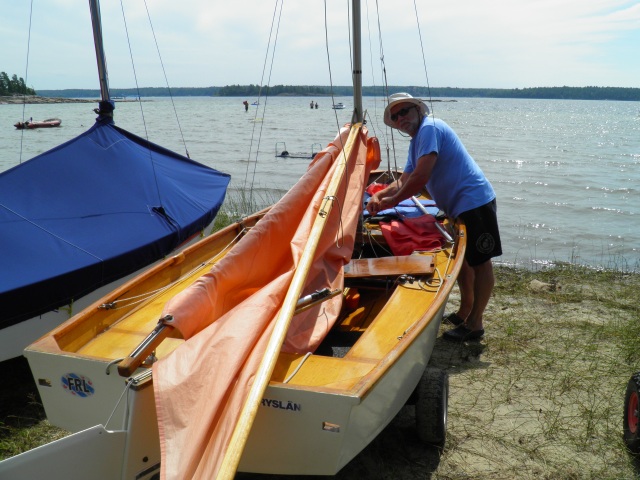 While Terry was preparing the draw to select teams, Aleid explained the course to the participants. There were three checkpoints: Granite Saddle beach, Hanzo's inflatable anchored just south of the Sisters, and the day use beach in Kilcoursie Bay. It was up to each boat to decide what order to visit the checkpoints and pick up a card from each.
The Race
After the running start on the beach, most of the fleet headed to Granite Saddle beach. Natalie and George ignored the crowd and made the bold choice to head to Kilcoursie beach first.
There was some confusion at Granite Saddle, as the fleet arrived faster than those manning the checkpoint. Once that was sorted out, they headed towards the Sisters to find Hanzo and his inflatable.
After picking up a card from Hanzo in his inflatable tucked in behind the Sisters, crews had to decide whether to risk the tricky winds beating between the Islands detour round in more reliable winds.
Back on the Beach
In the poker race, you're not finished until both your and your teammate's boats are parked with their sails down. Natalie's choice paid off in a big way: they were the first boat to arrive back at the Harold Point beach!
Once both boats are parked, the crews have to run to the beach where Terry is waiting with a silly task for them to perform. This year, it was the crab walk.
Crab walk complete, you could turn in your cards and see what sort of poker hand you and your teammate have accumulated. The winning hand this year was a flush - not bad for best five cards out of six.
Finally, the teams have to shuck corn for the evening's corn roast.
Photo Credits
Thanks to all those who provided photos:
Hanzo VanBeusekom
Roy Spencer
Randy Beaumont
Paulette Tae
And of course thanks to everybody who helped run the race:
Terry for organizing the race
Aleid for handling the start
Everyone who manned the checkpoints: the Fitzgeralds, Hanzo, Ineke and Inskje
Randy and Carol for organizing the corn shucking