Provincial Championship Regatta 2009
The Provincial Championship Regatta was held on the weekend of September 19 and 20, 2009 at Sibbald Point Provincial Park. It was a great weekend to be outside: warm and sunny.
Friday
Some of the participants arrived on Friday afternoon. There was plenty of wind then! Aleid an Ynskje bicycled to Jackson's Point for ice-cream.
Saturday
The winds were pretty light on Saturday. We managed to sail one race, but the wind died before everyone could make it across the finish line. Heather made it just inside the time limit, while those following were stuck with a DNF.
Later in the afternoon, the wind picked up and we headed out to try running another race. Conditions looked great on the way out, but the wind disappeared as soon as the start-line pole was raised into position on Charger, and the race was abandoned. The trip back was a lot slower.
Most of the participants gathered for a communal dinner on Aleid and Ynskje's campsite.
Sunday
Sunday brought some steadier winds. We used a shorter course (triangle-sausage) and managed to sail 4 races while the wind held up. The course for the last race was shortened even further (just a triangle).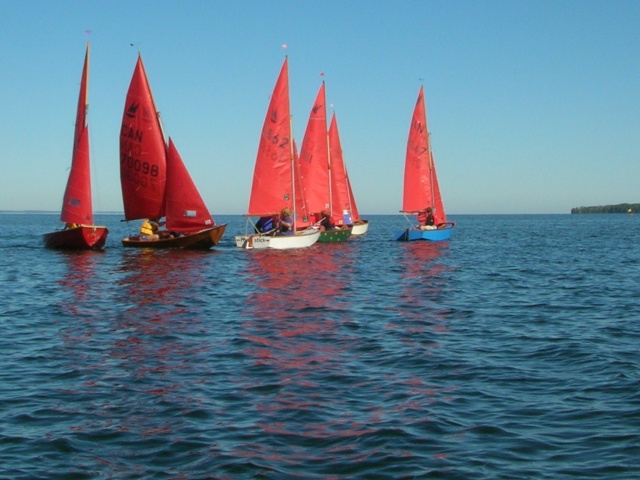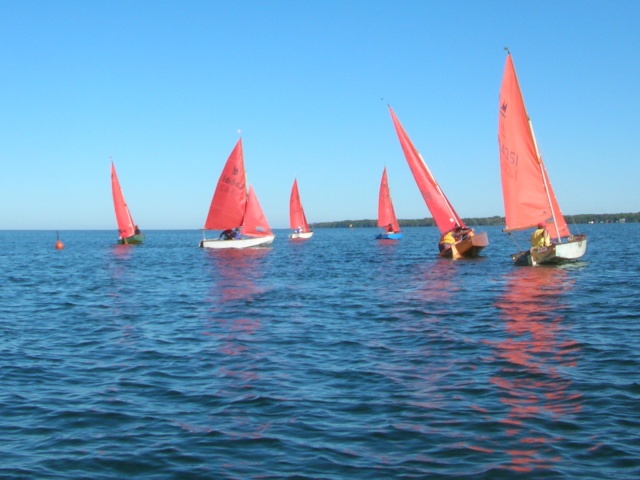 Race Results
2009 OMDA Provincial Championship Regatta Results
Place
Sail No.
Crew
Race 1
Race 2
Race 3
Race 4
Race 5
Points
1
43758
Aleid Brendeke
1
1
1
1
1
8
2
70098
Don Alp
Stephanie Alp
2
2
3
3
2
9
3
29647
Mat Bienczyk
DNF
3
2
2
3
14
4
51161
Shelley Walker
Michael Walker
3
5
5
5
5
18
5
16562
Heather Pugh
Jeremy Rice
4
6
6
4
7
20
6
53050
Stephen Steel
DNF
4
4
6
4
22
7
14531
Les Bienczyk
DNF
DNF
DNS
7
6
33
Note: Those sailing single-handed were assessed a penalty of 1 point per race, and each crew's worst result was thrown-out.
Because only double-handed crews were eligable to win the championship, Don and Stephanie were declared the Provincial Champions. The single handed sailors results will still count towards the overall ranking results for the 2009 OMDA season.
Many thanks to Marika, Hanzo and Paul for volunteering as race committee.
Photo Credits
Thanks to Aleid Brendeke and Hanzo VanBeusekom for capturing some great photos.