Midland Regatta 2009
The Midland Regatta was held on the weekend of June 20 and 21 at the Bayfort Family Camp just outside Midland.
Saturday
There was some rain in the morning, but there was no thunder and lightning, so we got busy rigging out boats.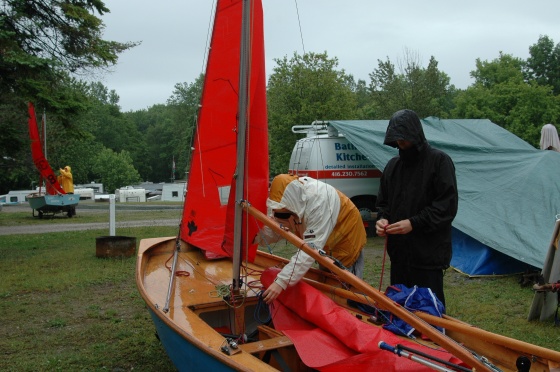 Things are so wet, Steve considers adding weeping tile to his boat!
We get out on the water, but the wind is underwhelming.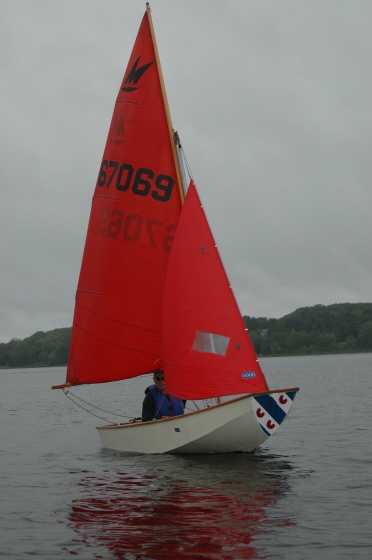 And they're away at the start.
Things started to get wetter, so we don't have a lot of photos. By the end of the second race, there wasn't much wind left.
We head for home, and hope we get to shore before our boats fill with rain - we weren't moving fast enought for the bailers to help much.
Les took some pretty pictures of the rain making patterns on the water while the committee waited for the rest of the fleet.
Everything was wet once we were done, but we had some sun to dry things out.
We all enjoyed a delicous and filling dinner at Henry's Fish Restaurant (just a short walk from the campground).
And dried out around the campfire in the evening.
Sunday
The weather on Sunday was just about perfect, so we got out on the water for an early start.
With conditions like this, it's time for another race!
There was Time for one More Short Race.
While the competitors pack their boats up, Paul calculates the results.
And watching others work is always a favourite activity.
Race Results
Finally, it's time to announce the results.
2009 OMDA Midland Regatta Results
Place
Sail No.
Crew
Race 1
Race 2
Race 3
Race 4
Race 5
Points
1
43756
Aleid Brendeke
2
1
1
1
1
8
2
36398
Shelley Walker
1
3
6
3
3
14
3
16562
Heather Pugh
4
2
3
6
2
15
4
53050
Stephen Steel
3
4
2
2
4
15
5
20758
Marika Beaumont
5
5
4
4
DNF
22
6
29647
Mat Bienczyk
Michael Pagacz
7
6
5
7
5
23
7
1455
Kayley Pugh
8
8
7
5
6
30
8
Richard Kropman
6
7
8
8
DNS
33
Note: Those sailing single-handed were assessed a penalty of 1 point per race, and each crew's worst result was thrown-out.
Those with a good memory will realize these results differ slightly from those announced at the end of the event. While reviewing the results, the committe noticed they had made mistake adding up points and that Steve and Heather were actually tied in points. The usual tie-breaker, rule A8.1 of the Racing Rules of Sailing, didn't help as they both had the same results in their best four races (in different order). The tie was broken by rule A8.2: Heather beat Steve in the last race.
Many thaks to Les Bienczyk and Paul Lingen for volunteering to serve as the race committee. Since he wasn't sailing in the race, Les was kind enough to lend his boat Moon Toad so both Kayley and Heather Pugh could race. And thanks to Paulette for bringing Charger to and from the event.
Paulette presented Mat and Mike with a cheque - the results of some fundraising for their trip to Wales for the Mirror Worlds later this summer. We hope they have a great time. Good Luck!
Photo Credits
Many thanks to Les Bienczyk for capturing some great photos of the races from the committee boat and on shore.