Thanksgiving Weekend - 2007
For many years, many OMDA members have been getting together to spend the Thanksgiving weekend camping at Killbear. Thanksgiving dinner is not something to be tackled lightly. Some OMDA members prudently decided they'd better put in a few days of kayaking at Rock Lake in Algonquin Park to compensate for its effect on their waistline!
Cruise through the Hole in the Wall
Aleid, Heather and Greg tackled a cruise into the sound and through the Hole in the Wall.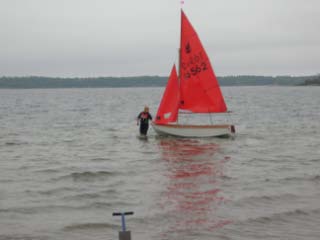 The Dinner
There was plenty to eat...
And other amusements
Photo Credits
Thanks to Aleid Brendeke, Derek Pugh, and Hanzo Van Beusekom for the photos.